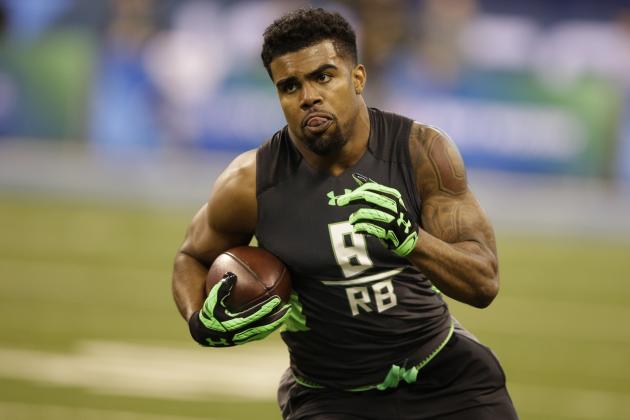 Ezekiel Elliott (born July 22, 1995) is an American football running back for the Dallas Cowboys of the National Football League (NFL). He played college football at Ohio State. He was drafted by the Cowboys fourth overall in the 2016 NFL draft. Elliott attended John Burroughs School in Ladue, Missouri, where he was a three-sport star in football, basketball and track. He played as a running back for the John Burroughs Bombers football team. As a junior in 2012, he was named the St. Louis Post-Dispatch offensive player of the year after rushing for 1,802 yards and 34 touchdowns and receiving 23 passes for 401 yards and six scores. In his senior year, he had 3,061 all-purpose yards and 50 total touchdowns, including 2,155 rushing yards and 40 rushing touchdowns.
Also a standout track & field athlete, Elliott was a state qualifier in sprinting and hurdling events. He capped his high school career by winning four state championships at the Missouri Class 3 state championships in 2 1⁄2 hours (100-meter dash, 200, 110 high hurdles and 300 hurdles). He recorded career-best times of 10.95 seconds in the 100-meter dash, 22.05 seconds in the 200-meter dash, 13.77 seconds in the 110m hurdles and 37.52 seconds in the 300m hurdles.[4] He was named the Gatorade Track Athlete of the Year in the state of Missouri. Considered a four-star recruit by Scout.com, Elliott was listed as the No. 9 running back in the nation in 2013. - Corey Coleman - Cleveland Browns - Jack Conklin - Joey Bosa
As a true freshman at Ohio State University in 2013, Elliott rushed for 262 yards on 30 carries with two touchdowns as a backup to starter Carlos Hyde. In 2014, Elliott took over as the starter. During the season, Elliott was named Academic All-Big Ten Conference. In the final two games of the 2014 season, against Indiana and Michigan he ran for 107 yards and 121 yards respectively. In the 2014 Big Ten Championship Game against the Wisconsin Badgers, Elliott ran for 220 yards on 20 carries for two touchdowns. In the 2015 Sugar Bowl against #1 Alabama, Elliott ran for 230 yards on only 20 carries in the first-ever college playoffs as Ohio State defeated Alabama in a hard-fought game, 42–35.
He would win the Offensive Player of the Game in the same game. He then capped the Buckeyes' Championship season by rushing for 246 yards on 36 carries and scoring 4 touchdowns against the Oregon Ducks. He won Offensive MVP of that game as well. In a post-game interview following Ohio State's 14-17 loss to Michigan State, on Nov. 21, 2015, Elliott announced that he would forgo his senior year at Ohio State and enter the 2016 NFL Draft. The following week Elliott ran for 214 yards on 30 carries in a 42-13 Ohio State victory vs Michigan in Ann Arbor. Elliott finished his career at Ohio State second in career rushing yards behind Archie Griffin and ahead of Eddie George with 3961 career rushing yards. - Corey Coleman - Cleveland Browns - Jack Conklin - Joey Bosa