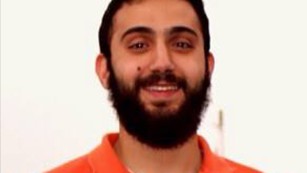 Chattanooga, Tennessee (CNN)[Breaking news alert, posted at 11:27 p.m. ET Thursday]
(CNN) -- Who was the gunman accused of killing four Marines in a shooting rampage Thursday at two military centers in Chattanooga, Tennessee, and why did he open fire? Suspected shooter Mohammad Youssuf Abdulazeez, 24, is dead, the FBI said. But -- publicly, at least -- investigators haven't said much more about him.
Witnesses saw Abdulazeez spray a hail of bullets at the glass doors of a military recruiting center in a strip mall. Then the gunman, who according to a law enforcement official was driving in a rented silver Ford Mustang convertible, moved on to his next target more than seven miles away: a Naval reserve center. There, he rammed into a gate at some point during his shooting rampage and was eventually killed by police, a U.S. official said.
Now, with the FBI in the lead, a terrorism task force is investigating, a law enforcement source said. Authorities "have not determined whether it was an act of terrorism or whether it was a criminal act," Ed Reinhold, FBI special agent in charge, told reporters. "We are looking at every possible avenue, whether it was terrorism -- whether it was domestic, international -- or whether it was a simple, criminal act."
A key detail will help them make that determination: finding out the suspect's motive. In the neighborhood where Abdulazeez is believed to have lived, police cars and an ambulance were on the streets. Residents were blocked from reaching their homes. A woman was escorted in handcuffs from the area, but it was unclear whether she was connected to the alleged gunman. "We will treat this as a terrorism investigation until it can be determined that it is not," Reinhold said. U.S. Attorney Bill Killian earlier told reporters that authorities were treating the shooting as an "act of domestic terrorism."
Authorities have released few details about the alleged gunman, but some details have begun to emerge about his past. Abdulazeez was arrested in April for allegedly driving under the influence. He had been scheduled to appear in court later this month. Abdulazeez was not in any U.S. databases of suspected terrorists, a U.S. official said. He was born in Kuwait and had Jordanian citizenship, two law enforcement officials said. He was a naturalized U.S. citizen, one official said. And he may have traveled back to the Middle East in recent years.
Almir Dizdarevic, who was Abdulazeez's mixed martial arts coach when he was a teenager, said his former student's father told him about two years ago that his son had left the country to "move back home." Since then, Dizdarevic said when he ran into Abdulazeez at a Tennessee mosque several times, his former student told him he was teaching wrestling and doing well.
Neighbor Dean McDaniel said he'd known the family for most of his 17 years living in the Chattanooga suburb of Hixson, Tennessee. He first crossed paths with Mohammad Abdulazeez when he was an elementary school student, and later would see him from time to time when he visited his sisters while they were baby-sitting McDaniel's children. "He was a good kid. ... They're good people," he said. "I've never had any kind of conflict with them."
Abdulazeez graduated from the University of Tennessee at Chattanooga in 2012 with a degree in electrical engineering, university spokesman Chuck Cantrell said. Peter Bergen: A history of attacks against U.S. military installations. Kevin Emily, his former high school wrestling coach, described him as "a great student" who sometimes missed practice to pray. "He always contributed, always did what I asked him to do. I never had any problems out of Mohammad," Emily told CNN's "Erin Burnett: Outfront." "He was very humble when he was in high school. He'd always listen to me, looked me in the eye. He was just -- in high school he was a great kid."
A quote appeared beside his photos in his high school yearbook: "My name causes national security alerts. What does yours do?" For years, Samantha Barnette sat next to him in class, but now she said she feels like she never really knew him. "He was also incredibly intelligent, which really makes me wonder about his true motives for doing this," said Barnette, who posted a photo of the yearbook page on Facebook. "He was always getting recognized for his high grades and getting awards all throughout school. It's upsetting to see him waste it all."