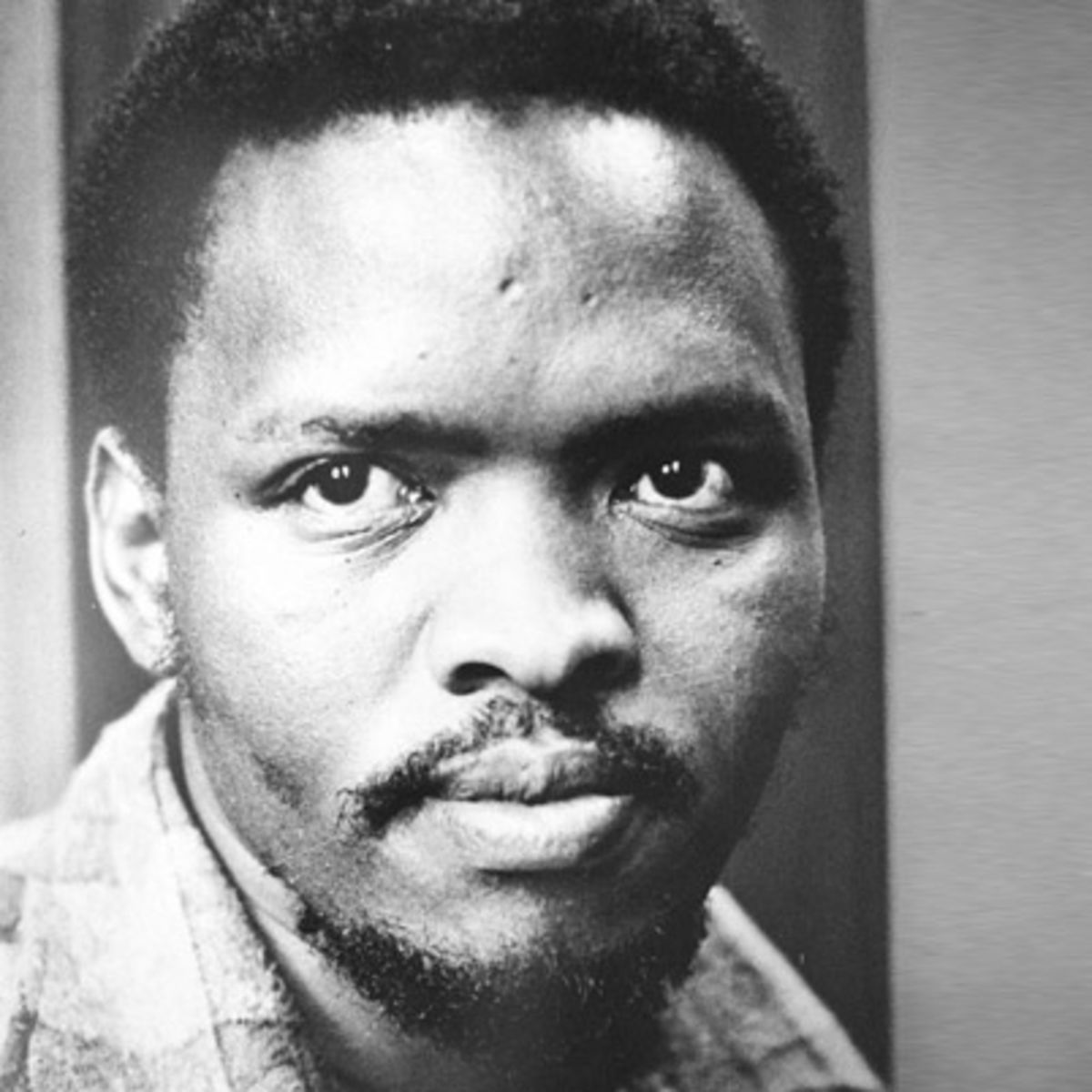 Stephen Bantu Biko (18 December 1946 – 12 September 1977) was an anti-apartheid activist in South Africa in the 1960s and 1970s. A student leader, he later founded the Black Consciousness Movement which would empower and mobilize much of the urban black population. Since his death in police custody, he has been called a martyr of the anti-apartheid movement. While living, his writings and activism attempted to empower black people, and he was famous for his slogan "black is beautiful", which he described as meaning: "man, you are okay as you are, begin to look upon yourself as a human being". Even though Biko was never a member of the African National Congress (ANC), the ANC has included him in the pantheon of struggle heroes, going as far as using his image for campaign posters in South Africa's first non-racial elections in 1994. Nelson Mandela said of Biko: "They had to kill him to prolong the life of apartheid."
Biko was born to parents Mzingayi Mathew and Alice 'Mamcete' Biko in Ginsberg Township, in the present-day Eastern Cape province of South Africa. His father was a government clerk, while his mother did domestic work in surrounding white homes. The third of four children, Biko grew up with his older sister Bukelwa; his older brother Khaya; and his younger sister Nobandile. His father gave him his name, Bantu Stephen Biko, which Biko is said to have understood to mean "a person is a person by means of other people". In 1950, at the age of four, Biko suffered the loss of his father who was studying law.
Biko was a Xhosa. In addition to Xhosa, he spoke fluent English and fairly fluent Afrikaans. As a child, he attended Brownlee Primary School and Charles Morgan Higher Primary School.[14] He was sent to Lovedale High School in 1964, a prestigious boarding school in Alice, Eastern Cape, where his older brother Khaya had previously been studying. During the apartheid era, with no freedom of association protection for non-white South Africans, Biko was expelled from Lovedale for his political views, and his brother arrested for his alleged association with Poqo (now known as the Azanian People's Liberation Army).[16] After being expelled, he then attended and later graduated from St. Francis College, a Roman Catholic institution in Mariannhill, Natal. After graduating from St. Francis in 1965 he entered the "non-European" section of the University of Natal Medical School at Wentworth, Durban, in 1966.
Biko married Ntsiki Mashalaba in 1970. They had two children together: Nkosinathi, born in 1971, and Samora. He also had two children with Dr Mamphela Ramphele, a prominent activist within the BCM: a daughter, Lerato, born in 1974, who died of pneumonia when she was only two months old, and a son, Hlumelo, who was born in 1978, after Biko's death. Biko also had a daughter with Lorraine Tabane, named Motlatsi, born in May 1977. He died shortly after arrival at the Pretoria prison, on 12 September. The police claimed his death was the result of an extended hunger strike, but an autopsy revealed multiple bruises and abrasions and that he ultimately succumbed to a brain hemorrhage from the massive injuries to the head, which many saw as strong evidence that he had been brutally clubbed by his captors. A year after his death, some of his writings were collected and released under the title I Write What I Like.