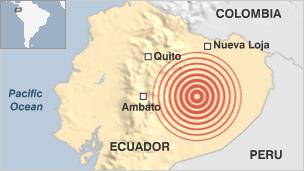 The catastrophic earthquake that destroyed buildings in Ecuador on Saturday became far more devastating Sunday, when the death toll soared to 235 -- and it's expected to rise. At least 1,500 people were injured, said Ricardo Peñaherrera of Ecuador's national emergency management office. "It was the worst experience of my life," survivor Jose Meregildo said Sunday about the tremors that violently shook his house in Guayaquil, 300 miles away from the quake's epicenter. "Everybody in my neighborhood was screaming saying it was going to be the end of the world."
The magnitude-7.8 earthquake hit Saturday night as it buckled homes and knocked out power in Guayaquil, Ecuador's most populous city, authorities said. Emergency officials recovered one body from the scene of a bridge collapse there. "The lack of water and communication remains a big problem," Peñaherrera told CNN en Español. "Many highways are in bad shape, especially in the mountainous area because it has been raining recently due to (the) El Niño weather phenomenon." Vice President Jorge Glas had said earlier the death toll is expected to rise.
The most deadly earthquake to hit Ecuador in nearly two decades has left 235 dead, and leaders of the Andean nation cautioned on Sunday that the death toll could still rise. The magnitude-7.8 earthquake, which also injured more than 1500, struck Saturday night, toppling buildings, damaging roads and impacting cities hundreds of miles away from its epicenter near the small fishing village of Muisne. More than 135 aftershocks have been felt, according to Ecuador's seismological institute. President Rafael Correa, who was travelling abroad on official business, declared a national emergency and urged Ecuadoreans to stay strong.