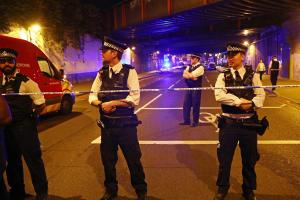 A man was arrested by the London police over the collision of a number of Tarawih prayers at the Finsbury Park mosque. Until now the identity of the man has not been announced. Tarawih Jemaahab Collector in London: I Want to Kill All Muslims. Local police told the BBC on Monday (19/06/2017), that the man was 48 years old. He was a van driver who ran into pilgrims after performing the Tarawih prayers.
At least 10 people were injured and 1 person was killed in the incident early morning local time. Some witnesses believe that the perpetrator is more than one person. But the information has been denied by the London police who insisted no other perpetrators were identified at the scene. One eyewitness named Khalid Amin told the BBC that the van driver had been 'secured' by residents not to run away, before police arrived. "He then shouted, 'I want to kill all Muslims'," Khalid said.
After the police arrived, the unknown driver was immediately taken to the hospital. However, the person will be arrested immediately after leaving the hospital. British Prime Minister Theresa May called the incident a potential terrorist act. Theresa also held a special meeting following this incident. The incident of vehicles crashing into pedestrians takes place outside the Finsbury Park Mosque, north London, England. The Muslim Council of Britain called the vehicle deliberately crashing into Tarawih's newly-returned congregation. "We have been informed that a van has crashed into new pilgrims leaving the #FinsburyPark mosque, our prayers with the victims," ​​the British Muslim Council (MCB) said in a statement released on Monday (19/6/2017).
Harun Khan, who is Chairman of the MCB, said via Twitter that the van 'deliberately' bumped into people who had just returned from Tarawih during the holy month of Ramadan. Khan did not mention further information sources. There has been no official response from the London Metropolitan Police on the statement. But it is known that this incident did occur at Seven Sisters Road, Finsbury Park, north London, exactly between the station and the local mosque. The Finsbury Park mosque, located near Seven Sisters Road, is known to have been the mosque of radical Islamic leader Abu Hamza. He had been the imam of the mosque in 1997. But the mosque changed drastically under new management.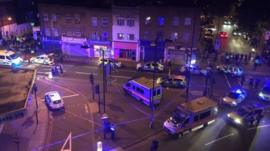 Some eyewitnesses, as quoted by local media UK, The Independent, call the vehicle accidentally hit a pilgrim who just came out of the mosque shortly after midnight. One eyewitness told LBC radio that many of the mosque's congregations stopped by for coffee at a local cafe, which was the scene of the incident. "Slowly and deliberately hit a cafe crowd outside a mosque," one eyewitness told LBC local radio. The number of victims in this incident is not yet known for certain. The London Metropolitan Police called the incident a "major incident". One person has been arrested related to this incident.