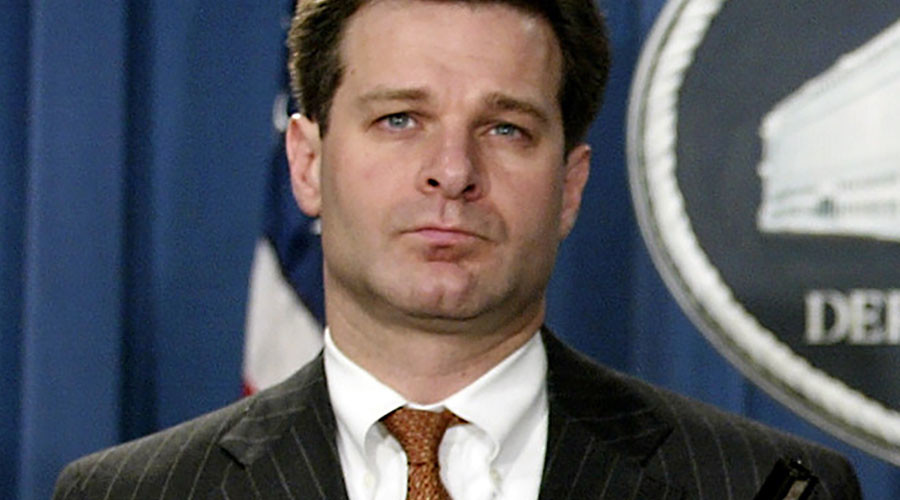 Christopher Asher Wray (born December 17, 1966) is an American lawyer. From 2003 to 2005, he served as Assistant Attorney General in charge of the Criminal Division under the George W. Bush administration. He is currently a litigation partner with the law firm King & Spalding. On June 7, 2017, President Donald Trump announced his intention to nominate Wray for Director of the Federal Bureau of Investigation. Christopher Wray was born on December 17, 1966 to Cecil Wray Jr., a partner at the Debevoise & Plimpton law firm, and Gilda (Gates) Wray, a program officer for the Charles Hayden Foundation. He attended the private boarding school Phillips Academy in Andover, Massachusetts. In 1989, Wray graduated cum laude from Yale University, then earned his law degree in 1992 at Yale Law School. While at Yale, Wray was the executive editor of the Yale Law Journal. Wray spent a year clerking for Judge J. Michael Luttig of the U.S. Court of Appeals for the Fourth Circuit.
Wray joined the government in 1997 as an assistant U.S. Attorney for the Northern District of Georgia. In 2001 he moved to the Justice Department as associate deputy attorney general and principal associate deputy attorney general. In 2003, President George W. Bush nominated Wray as assistant attorney general in charge of the Criminal Division of the Justice Department. Wray was unanimously confirmed by the Senate. Wray was assistant attorney general from 2003 to 2005, working under Deputy Attorney General James Comey. While heading the Criminal Division, Wray oversaw prominent fraud investigations like Enron. In 2005, Wray received the Edmund J. Randolph Award, the Justice Department's highest award for public service and leadership. Wray married Helen Garrison Howell, his classmate at Yale, in 1989. They have two children and live in Georgia.
Wray joined King & Spalding in 2005 as a litigation partner in the firm's Washington, D.C., and Atlanta offices. He represented several Fortune 100 companies and chaired the King & Spalding Special Matters and Government Investigations Practice Group. During his time at King & Spalding, Wray acted as New Jersey Governor Chris Christie's personal attorney during the Bridgegate scandal. During the scandal, defense attorneys for a pair of Christie's inner circle sought access to Christie's missing cellphone. Two years later, the phone turned up in Wray's possession. On June 7, 2017, President Donald Trump announced via Twitter that he would be nominating Wray to be the next Director of the Federal Bureau of Investigation, replacing James Comey, who was fired by Trump earlier that year. Trump interviewed Wray for the vacant FBI director job on May 30, according to Press Secretary Sean Spicer.