Brian Cant (12 July 1933 – 19 June 2017) was an English actor, television presenter and writer best known for his work in BBC television programmes for children from 1964 onwards. Cant was born in Ipswich and educated at Northgate Grammar School for Boys, a state grammar school, since renamed Northgate High School. Cant's theatre credits include Still Playing Away, The Railway Children, Present Laughter, An Ideal Husband, Habeas Corpus, Gas Light, Side by Side by Sondheim, The Canterbury Tales (in which he memorably ad-libbed a reference to his work on Play School), Oh, Coward!, There's No Place Like a Home and many more, as well as thirty-two pantomimes, including an adaptation of Aladdin at the Wolverhampton Grand written by Ian Billings.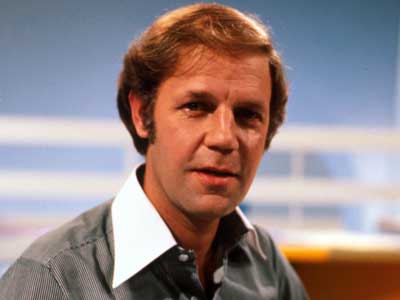 In the mid 1990s he worked on an educational series of children's videos called Watch and Learn alongside Sue Monroe, starring Bertie Badger and the one-off character of Fuzzy Fox. Aside from his work on children's television, Cant has worked as an actor in series for adults. In the 1960s he appeared in two Doctor Who stories, in 1965 as Kert Gantry in The Daleks' Master Plan[4] and in 1968 as Tensa in The Dominators. In 1998 Cant parodied his previous contributions as a narrator in 'The Organ Gang', a weekly segment in Lee and Herring's This Morning with Richard Not Judy, a BBC TV Sunday afternoon comedy show.
Cant lived in Chalfont St Giles, Buckinghamshire and was married to writer and director Cherry Britton, sister of TV presenter Fern Britton and actor Jasper Britton. They have three children, daughter Rose, and twins Christabel and Peter. He had two sons from his first marriage, Nicholas and Richard, who is also an actor. He was the son-in-law of the British actor Tony Britton and brother-in-law of the television chef Phil Vickery. In 1999, he was diagnosed with Parkinson's disease, referring to this in an interview with BBC Breakfast which was shown on 24 November 2010. He died on 19 June 2017, at the age of 83, at Denville Hall, a retirement home often used by those in the entertainment industry.