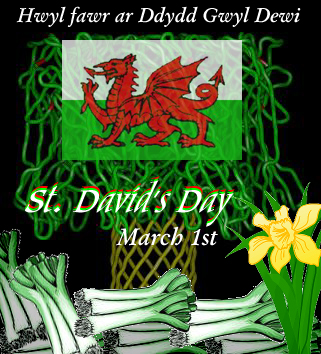 Happy St David's Day 2016: Who was St David and why do we celebrate his special day? Saint David's Day (Welsh: Dydd Gŵyl Dewi) is the feast day of Saint David, the patron saint of Wales, and falls on 1 March each year. The first day of March was chosen in remembrance of the death of Saint David. Tradition holds that he died on that day in 569. The date was declared a national day of celebration within Wales in the 18th century.
Cross-party support resulted in the National Assembly for Wales voting unanimously to make Saint David's Day a public holiday in 2000. A poll conducted for Saint David's Day in 2006 found that 87% of people in Wales wanted it to be a bank holiday, with 65% prepared to sacrifice a different bank holiday to ensure this. A petition in 2007 to make Saint David's Day a bank holiday was rejected by the office of the British Prime Minister.
Today is St. David's Day in Wales, commemorating the life and death of Wales' patron saint. We're celebrating this important national holiday with today's Doodle. Each component in the illustration represents a unique aspect of Wales' culture and national symbology. The ancient lettering and Celtic knot are a nod to Celtic art's importance.
The daffodil, Wales' national flower, features prominently in St. David's Day celebrations across the world. No St. David's Day Doodle would be complete without the Welsh dragon, which adorns the national flag. The dragon is quite possibly Wales' most enduring national symbol. We'd like to wish a Happy St. David's Day to everyone celebrating today, throughout Wales and beyond.