Jean Gardner Batten CBE OSC (15 September 1909 – 22 November 1982) was a New Zealand aviator. Born in Rotorua, she became the best-known New Zealander of the 1930s, internationally, by making a number of record-breaking solo flights across the world. She made the first-ever solo flight from England to New Zealand in 1936. Jane Batten (named "Jane" at birth, her name soon morphed into "Jean")[1] was born to Frederick Batten, a dental surgeon, and Ellen Batten (who would become her strong supporter in her choice of a piloting career). She had two older brothers.[1] In 1913 the family moved to Auckland. In 1924 Batten was enrolled into a girls' boarding college in Remuera in Auckland where she studied ballet and piano. Though she was a gifted pianist, at age 18 she determined to become a pilot after the Australian pilot Charles Kingsford Smith took her for a flight in his Southern Cross airplane. In 1929 she and her mother moved to England, to join the London Aeroplane Club. She took her first solo flight in 1930 and gained private and commercial licences by 1932, borrowing £500 from Fred Truman, a New Zealand pilot serving in the Royal Air Force who wanted to marry her, to fund the 100 hours flying time required. After completing her "B" license in December 1932, she left Truman and turned to Victor Dorée, who borrowed £400 from his mother to buy Batten a Gipsy Moth biplane. According to NZ History Online, "Raising money by taking advantage of her relationships with men was a theme that continued throughout her flying career."
Batten made two unsuccessful attempts to beat Amy Johnson's time to Australia. In April 1933 she hit two sandstorms before the engine failed, and wrecked the aircraft. She crash-landed near Karachi. Returning to London she could not persuade Dorée to buy her another aircraft, so she turned to the Castrol oil company, which bought her a second-hand Gipsy Moth for £240. She made another attempt in April 1934, but ran out of fuel at night on the outskirts of Rome. Crashing into a maze of radio masts, she nearly severed her lip. The plane was repaired and she flew it back to London, where she borrowed the lower wings from the aircraft of her fiancé, stockbroker Edward Walter, for a third attempt. In May 1934, Batten successfully flew solo from England to Australia in the Gipsy Moth. Her trip of 14 days and 22 hours beat the existing England-to-Australia record of English aviator Amy Johnson by over four days. For this achievement and for subsequent record-breaking flights, she was awarded the Harmon Trophy three times (1935, 1936, 1937). She also received an endorsement contract with Castrol oil. Batten's book about her trip, Solo Flight, was published by Jackson and O'Sullivan Ltd in 1934. Batten took a boat to New Zealand with the Gipsy Moth (which could not have flown across the Tasman Sea) and made a six-week aerial tour there before returning to England.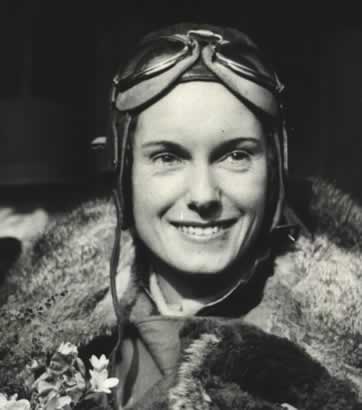 After her first Australia flight Batten bought a Percival Gull Six monoplane, G-ADPR, which was named Jean. In 1935 she set a world record flying from England to Brazil in the Percival Gull, for which she was presented the Order of the Southern Cross, the first person other than Royalty to be so honoured. In 1936 she set another world record with a solo flight from England to New Zealand. At her birthplace of Rotorua she was honored by local Māori, as she had been after the 1934 journey. She was given a chief's feather cloak and given the title Hine-o-te-Rangi – "Daughter of the Skies". Batten was created Commander of the Order of the British Empire (CBE) in 1936, and she was also given the Cross of Chevalier of the French Legion of Honour that year. Also in 1936, for the second successive year, Batten was again awarded the Royal Aero Club's Britannia Trophy for most meritorious performance in aviation during the previous year. In 1938 she was awarded the medal of the Fédération Aéronautique Internationale, aviation's highest honour; she was the first woman to receive the medal. Throughout the 1930s she was very social and made many friends with other aviators internationally, as she described in her autobiography.
World War Two ended Batten's flying adventures. Her Gull was commissioned to active service but Batten was not permitted to fly it. During the war she was involved in campaigns giving lectures in England to raise money for guns and aeroplanes, but her flying days were over. After the war she retired from public life except for a few anniversary appearances. Batten became a recluse and lived in several places around the world with her mother until her mother's death in 1965. In 1977 she was guest of honour at the opening of the Aviation Pioneers Pavilion at Auckland's Museum of Transport and Technology, after which she returned to her home in Spain.[5] In 1982 she was bitten by a dog on the island of Majorca. She refused treatment and the wound became infected.[6] She died alone in a hotel on Majorca, from complications from the dog bite, and was buried on 22 January 1983. She was buried under her middle name, Gardner, in a pauper's grave in Majorca in 1983 - she'd only been there for a week and they didn't know who she was - and it wasn't discovered until five years later. Thus the world, and her relatives, did not learn of her passing until September 1987.
Batten's autobiography, My Life, was published by George G. Harrap in 1938 and is available online at the New Zealand Electronic Text Center, part of the Victoria University of Wellington Library. An extended version was printed under the title Alone in the Sky by N.Z. Technical books in 1979. Because of her striking looks, her glamorous appearance at receptions (she always took a white silk dress with her on her record-breaking flights, and repaired her lipstick before exiting her aircraft), and her later reclusive ways, Batten became known as the "Greta Garbo of the skies". In October 2008 a musical Garbo of the Skies written by Paul Andersen-Gardiner and Rebekah Hornblow had its inaugural performance in Opunake by the Opunake Players at the Lakeside Playhouse. It was based on Ian Mackersey's biography.