Fabrício Werdum (Portuguese pronunciation: [faˈbɾisju veʁˈdũ]; born July 30, 1977) is a Brazilian mixed martial artist and the current UFC Heavyweight Champion. He is also a two-time Brazilian jiu-jitsu world champion, a two-time Abu Dhabi Combat Club World Heavyweight Champion and European jiu-jitsu champion. He holds black belts in Brazilian jiu-jitsu, Judo, and Muay Thai. Werdum has competed in PRIDE, the UFC, Strikeforce, and Jungle Fight.
As of March 7, 2016, he is ranked #4 in official UFC pound-for-pound rankings[8] and ranked as the #1 heavyweight and #5 pound-for-pound fighter in the world by Sherdog. He was the first fighter to decisively defeat Fedor Emelianenko in mixed martial arts. He also holds notable victories over Cain Velasquez, Alistair Overeem, Antonio Rodrigo Nogueira, and Mark Hunt. - UFC 211: Miocic vs Dos Santos 2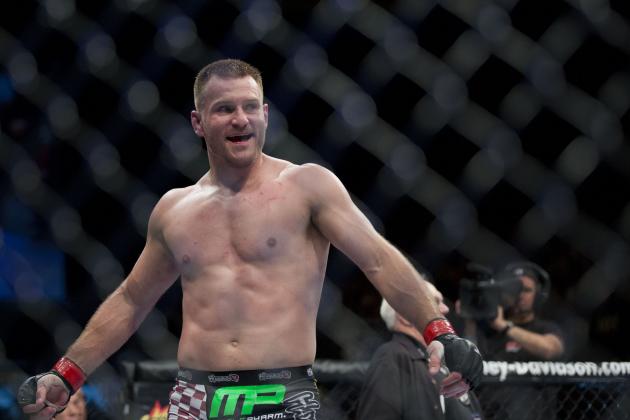 Stipe Miocic (Croatian: Stipe Miočić; born August 19, 1982) is an American mixed martial artist who competes in the Heavyweight division of the Ultimate Fighting Championship (UFC). As of January 19, 2016, he is #2 in official UFC heavyweight rankings. Miocic was born to Croatian immigrants. By September 2012, they had separated, and his father had returned to Croatia. Miocic played baseball and football, and wrestled while at Eastlake North High School.
Miocic played baseball his senior year at Trevecca Nazarene University in Nashville, Tennessee. Miocic helped lead the team to the TranSouth Athletic Conference regular season and tournament championship, hitting .344 with 14 doubles, 4 triples, 7 home runs and 43 RBI. Miocic earned the TranSouth Player of the Week award. Miocic also received interest from Major League Baseball teams during his collegiate years at Cleveland State University. - UFC 211: Miocic vs Dos Santos 2