The Philippine presidential and vice presidential elections of 2016 is the next presidential election in the Philippines, scheduled on Monday, May 9, 2016. Incumbent President Benigno Aquino III is barred from seeking re-election, pursuant to the 1987 Philippine Constitution. Therefore, this election will determine the 16th President of the Philippines. The position of president and vice president are elected separately, and the winning candidates may come from different political parties.
This will be the 16th presidential election in the Philippines since 1935, and the presidential election since 1986. This will be a part of the 2016 general election where elections to the Senate, House of Representatives and local government above the barangay level, including the Autonomous Region in Muslim Mindanao shall be held.
Candidates - An initial list of 8 presidential candidates were uploaded on the certified candidates list in the commission's database on January 21, 2016. But only trimmed down to 5, due to declaration by the commission en banc of Dante Valencia as a nuisance candidate and the withdrawal of certificates of candidacies of Romel Mendoza and Roy Señeres. This is the final and certified list of candidates for the elections to be included in the ballots: Jejomar Binay, Miriam Defensor Santiago, Rodrigo Duterte, Grace Poe, Mar Roxas. Although, Señeres withdrew his candidacy and later died, his name is still included in the printed ballots.
Presidential tickets - Under the Constitution of the Philippines, the President and Vice President are elected separately.
Presidential candidate Vice Presidential candidate Slogan Campaign manager
1. Jejomar Binay (UNA) Gringo Honasan (UNA) "Kay Binay, gaganda ang buhay" (lit. "With Binay, life will get better.") Collective leadership
2. Miriam Defensor Santiago (PRP) Bongbong Marcos (Independent)[a] "Aangat Tayo sa Galing ng Pilipino!" (lit. "The Philippines will progress through the Filipino excellence!") Jun Santiago
3. Rodrigo Duterte (PDP–Laban) Alan Peter Cayetano (Independent)[a] "Tapang at Malasakit" (lit. "Courage and Compassion") Leoncio Evasco, Jr.
4. Grace Poe (Independent) Francis Escudero (Independent) "Gobyernong May Puso" (lit. "Government with a Heart") Joseph Ace Durano
5. Mar Roxas (Liberal) Leni Robredo (Liberal) "Ituloy ang Daang Matuwid" (lit. "Continue the Straight Path") Feliciano Belmonte, Jr.
6. — Antonio Trillanes (Independent)[b] "Push Up Pilipinas" (lit. "Push Up Philippines") —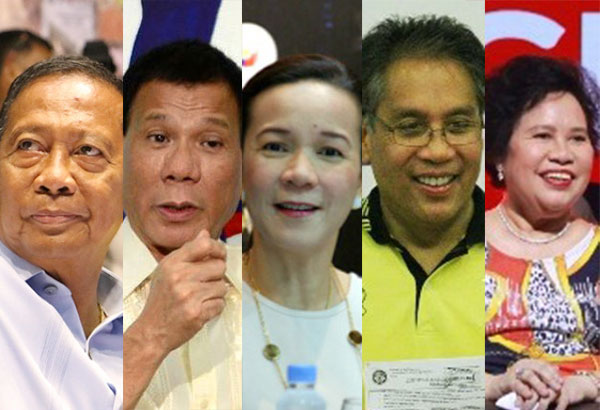 Notes:
Cayetano, Marcos and Trillanes are all members of the Nacionalista Party, but failed to get that party's nomination; instead, all of them are running as independents.
Trillanes is supporting Poe's presidential campaign, although he is not her running mate.
Opinion polling in Philippines is conducted by Social Weather Stations (SWS), Pulse Asia and other pollsters.
Only polls conducted after January 10, 2016, the start of the election period, are included. The front-runner is in bold. Those which are within the margin of error are in italics.