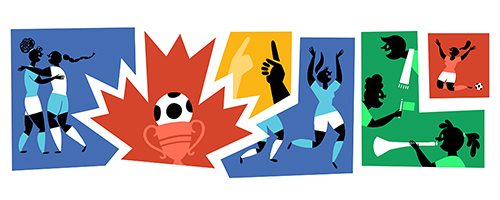 The 2015 FIFA Women's World Cup is the seventh FIFA Women's World Cup, the quadrennial international women's football world championship tournament. In March 2011, Canada won the right to host the event, the first time the country will host the tournament and the third time it has been held in North America. Matches will be played in six cities across Canada in five time zones. The tournament began on 6 June 2015 and is scheduled to finish with the final match on 5 July.
The 2015 tournament saw the World Cup expanded to 24 teams from 16 in 2011. Canada's team received direct entry as host and a qualification tournament of 134 teams was held for the remaining 23 places. With the expanded tournament, eight teams made their Women's World Cup debut. All previous Women's World Cup finalists qualified for the tournament, with defending champion Japan and returning champions Germany (2003, 2007) and the United States (1991, 1999) among the seeded teams.
The 2015 tournament is using goal-line technology for the first time with the Hawk-Eye system. It is also the first Women's World Cup to be played on artificial turf. There were some initial concerns over a possible increased risk of injuries from playing on artificial turf, but a legal challenge suggesting matches should be played on grass as in similar men's tournaments was dropped in January 2015.
2015 FIFA Women's World Cup Final
5 July 2015 16:00 PDT (UTC−7)
United States vs Japan
BC Place, Vancouver
Referee: Kateryna Monzul (Ukraine)
Qualification for the 2016 Summer Olympics
Three places in the 2016 Summer Olympics women's football tournament, to be held in Brazil, are reserved for teams from UEFA. These will be filled by the UEFA teams that progress the furthest in the 2015 FIFA Women's World Cup, other than ineligible England. Two places went to France and Germany, the only UEFA quarter-finalists besides England.[65] The third best finish was a tie between four teams eliminated in the round of 16: Netherlands, Norway, Sweden and Switzerland. No tiebreaker criteria based on World Cup Finals performances was used: instead a play-off tournament in February/March 2016 will determine UEFA's third Olympic qualifier.
Even though England are one of the top three UEFA teams in the World Cup, they are ineligible for the Olympics as they are not an Olympic nation. The Football Association had originally declared on 2 March 2015 its intention to enter and run teams on behalf of the British Olympic Association at the 2016 Olympics should England qualify. Following strong objections from the Scottish, Welsh and Northern Irish football associations, and a commitment from FIFA that they would not allow entry of a British team unless all four Home Nations agreed, the Football Association announced on 30 March 2015 that they would not seek entry into the Olympic tournament.