Martin Landau (June 20, 1928 – July 15, 2017) was an American film and television actor. His career started in the 1950s, with early film appearances including a supporting role in Alfred Hitchcock's North by Northwest (1959). He played regular roles in the television series Mission: Impossible (for which he received several Emmy Award nominations and a Golden Globe Award) and Space: 1999.
Landau received the Golden Globe Award for Best Supporting Actor – Motion Picture, as well as his first nomination for the Academy Award for Best Supporting Actor, for his role in Tucker: The Man and His Dream (1988); he received his second Oscar nomination for his appearance in Crimes and Misdemeanors (1989). His performance in the supporting role of Bela Lugosi in Ed Wood (1994) earned him an Academy Award, a Screen Actors Guild Award and a Golden Globe Award. He continued to perform in film and TV, and headed the Hollywood branch of the Actors Studio until his death in 2017.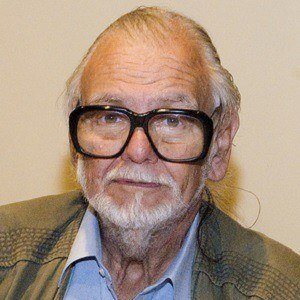 George Andrew Romero (/rəˈmɛroʊ/; February 4, 1940 – July 16, 2017) was an American-Canadian filmmaker, writer and editor, best known for his series of gruesome and satirical horror films about an imagined zombie apocalypse, beginning in 1968 with Night of the Living Dead, which is often considered a progenitor of the fictional zombie of modern culture. Other notable films in the series include Dawn of the Dead (1978) and Day of the Dead (1985). Aside from the Dead series, his works include The Crazies (1973), Martin (1978), Creepshow (1982), Monkey Shines (1988) and The Dark Half (1993). Romero is often noted as an influential pioneer of the horror film genre, and has been called an "icon" and the "Father of the Zombie Film." He died on July 16, 2017 after a battle with lung cancer.
Romero divorced from Christine Forrest, whom he met on the set of Season of the Witch. They had two children together, Andrew and Tina Romero. Romero lived in Toronto with his wife, Suzanne Desrocher, whom he met while filming Land of the Dead. They married in September 2011 on Martha's Vineyard.[26] His son Cameron, is a filmmaker, who filmed 2015 the film Origins, which is the sequel to his Night of the Living Dead. He took up Canadian citizenship in 2009, becoming a dual Canada-U.S. citizen. On July 16, 2017, Romero, age 77, died in his sleep following a "brief but aggressive battle with lung cancer", according to a statement by his longtime producing partner, Peter Grunwald. Romero died while listening to the score of one of his favorite films, The Quiet Man, with his wife, Suzanne Desrocher Romero, and daughter, Tina Romero, at his side.