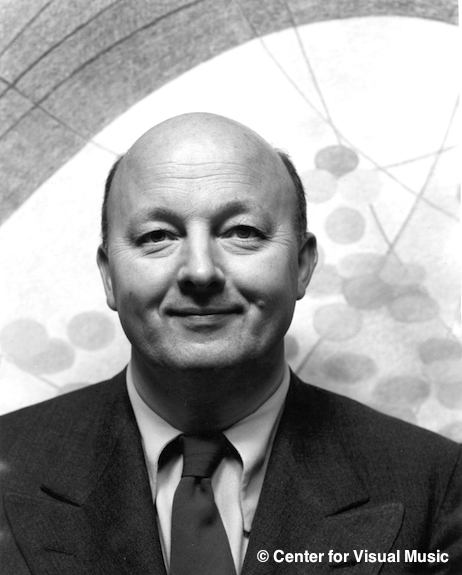 Oskar Wilhelm Fischinger (22 June 1900 – 31 January 1967) was a German-American abstract animator, filmmaker, and painter, notable for creating abstract musical animation many decades before the appearance of computer graphics and music videos. He created special effects for Fritz Lang's 1929 Woman In The Moon, one of the first sci-fi rocket movies. He made over 50 short films, and painted around 800 canvases, many of which are in museums, galleries and collections worldwide. Among his film works is Motion Painting No. 1 (1947), which is now listed on the National Film Registry of the U.S. Library of Congress.
Abstract film is a subgenre of experimental film. Its history often overlaps with the concerns and history of visual music. Some of the earliest abstract motion pictures known to survive are those produced by a group of German artists working in the early 1920s, a movement referred to as Absolute Film: Walter Ruttmann, Hans Richter, Viking Eggeling and Oskar Fischinger. These artists present different approaches to abstraction-in-motion: as an analogue to music, or as the creation of an absolute language of form, a desire common to early abstract art. Ruttmann wrote of his film work as 'painting in time.'Walt Disney used abstract animation for his film Fantasia during the Toccata and Fugue in D Minor segment. Abstract films are non-narrative visual/sound experiences with no story and no acting. They rely on the unique qualities of motion, rhythm, light and composition inherent in the technical medium of cinema to create emotional experiences.
Frustrated in his filmmaking, Fischinger turned increasingly to oil painting as a creative outlet. Although the Guggenheim Foundation specifically requested a cel animation film, Fischinger made his Bach film Motion Painting No. 1 (1947) as a documentation of the act of painting, taking a single frame each time he made a brush stroke—and the multi-layered style merely parallels the structure of the Bach music without any tight synchronization. Although he never again received funding for any of his personal films (only some commercial work), the Motion Painting No. 1 won the Grand Prix at the Brussels International Experimental Film Competition in 1949. Three of Fischinger's films also made the 1984 Olympiad of Animation's list of the world's greatest films. Fischinger died in Los Angeles in 1967. A great deal of inaccurate information continues to be published about Fischinger, largely taken from decades-old sources, often repeated online.