Kathrine Virginia "Kathy" Switzer (born January 5, 1947, in Amberg, Germany is an American author, television commentator and marathon runner. In 1967, she became the first woman to run the Boston Marathon as a numbered entry. During her run, race official Jock Semple attempted to stop Switzer and grab her official bib; however, he was shoved to the ground by Switzer's boyfriend, who was running with her, and she completed the race. It was not until 1972 that women were allowed to run the Boston Marathon officially. Switzer was born in Germany, the daughter of a major in the United States Army. Her family returned to the United States in 1949. She graduated from George C. Marshall High School in Fairfax County, Virginia, then attended Syracuse University, where she studied journalism. She earned a bachelor's degree there in 1968 and a master's degree in 1972. In 1979, the Supersisters trading card set was produced and distributed; one of the cards featured Switzer's name and picture.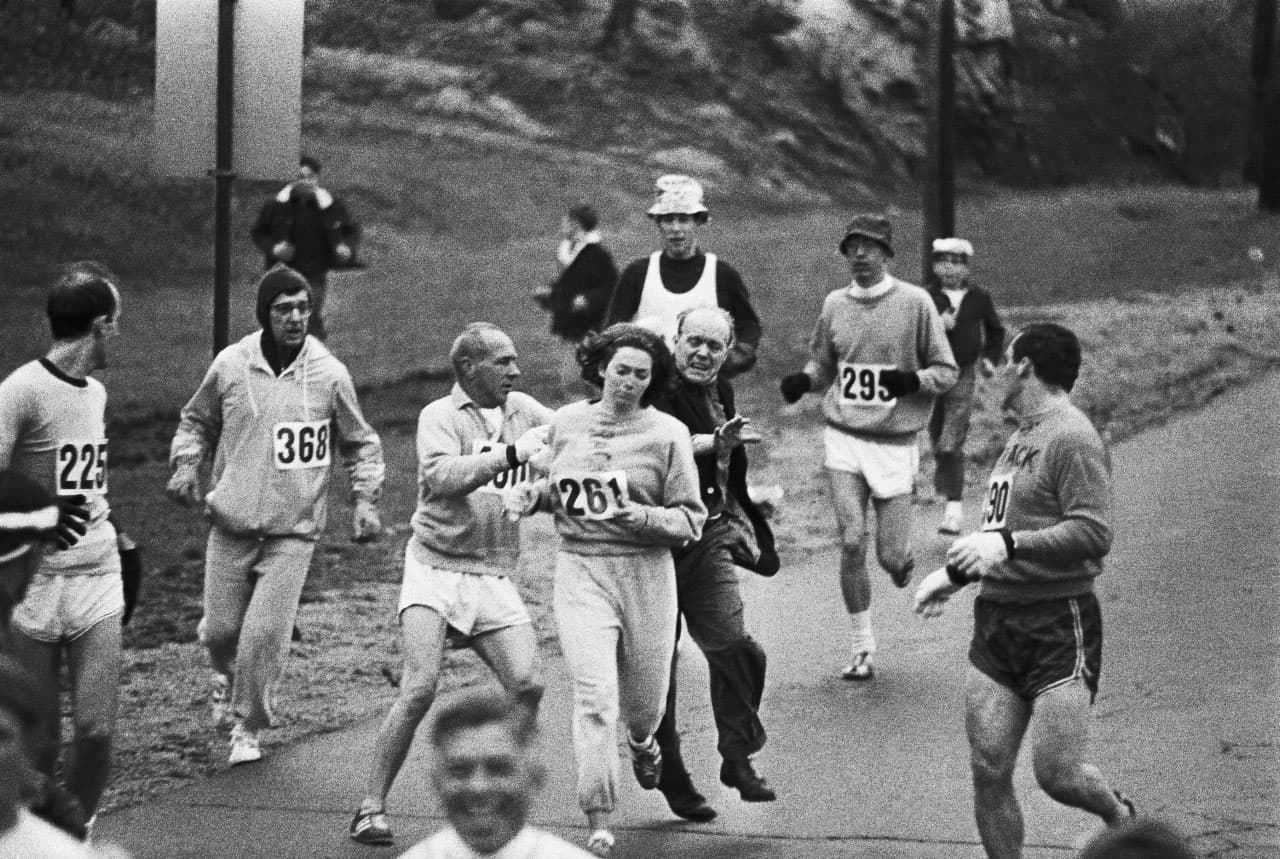 1967 Boston Marathon - After her coach insisted a marathon was too far to run for a "fragile woman", Switzer trained for and completed the 1967 Boston Marathon under entry number 261 with the Syracuse Harriers athletic club. It was another five years before women were officially allowed to compete. Her finishing time of approximately 4 hours and 20 minutes was nearly an hour behind the first female finisher, Bobbi Gibb (who ran unregistered). She registered under the gender-neutral "K. V. Switzer", which she said was not done to mislead the officials. She stated she had long used "K. V. Switzer" to sign the articles she wrote for her university paper. She also stated that her name had been misspelled on her birth certificate, so she often used her initials to avoid confusion. Photographs of race official Jock Semple attempting to rip Switzer's number off were widespread in the media.
Switzer was issued a number through an "oversight" in the entry screening process, and was treated as an interloper when the error was discovered. Semple attempted to physically remove her from the race while shouting, "Get the hell out of my race and give me those numbers!" Switzer's boyfriend Tom Miller, a 235-pound ex-All American football player and nationally ranked hammer thrower who was running with her, shoved Semple aside and sent him flying to the pavement, allowing her to proceed. Afterwards, Boston Athletic Association director Will Cloney was asked his opinion of Switzer competing in the race. Cloney said, "Women can't run in the Marathon because the rules forbid it. Unless we have rules, society will be in chaos. I don't make the rules, but I try to carry them out. We have no space in the Marathon for any unauthorized person, even a man. If that girl were my daughter, I would spank her." Because of her run, the AAU barred women from all competitions with male runners, with violators losing the right to compete in any races. Switzer, with other women runners, tried to convince the Boston Athletic Association to allow women to participate in the marathon. Finally, in 1972, women were officially allowed to run the Boston Marathon for the first time.