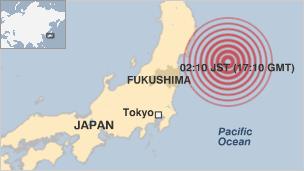 An earthquake measuring 7.3 on the Richter scale (SR) hit northern Japan on Tuesday (22/11) morning. The Japan Meteorological Agency said the earthquake triggered a tsunami that occurred north coast of the Pacific. The quake, which was also felt in Tokyo, centered off the coast of Fukushima prefecture at a depth of about 10 kilometers and struck at 05:59 local time. The Japanese government has also provided a tsunami warning for up to three meters.
The Japan Meteorological Agency has also confirmed the existence of a tsunami as high as 60 cm and 90 cm Onahama Port in Soma, after the earthquake. The area was once devastated by the tsunami and earthquake in 2011. Kyodo news agency reported, a woman suffered injuries in the head, caused by the earthquake. Television footage showed the ships moved out to sea from the Port of Fukushima after the tsunami warning signal is issued.
Iwaki, a fire station, said there was a fire at the research center Kureha in a petrochemical complex in the city of Iwaki at 06:17 local time. After that, there was no major damage at Fukushima. US Geological Survey initially announced an earthquake measuring 7.3 magnitude lower it to 6.9. All nuclear power plants in Fukushima coast threatened by the tsunami and only two reactors are allowed to operate. Even when discontinued operations, the NPP needs to keep fuel systems to keep them cool.
Tokyo Electric Power Co, known as Tepco, said there was no damage in any power plant in Fukushima. However, the company has done a blackout in various regions. Tepco's Fukushima Daiichi nuclear power plant belonging to never caused the worst nuclear disaster in Japan in 2011 during an tsunamk ago. Meanwhile, Tohoku Electric Power Co. also said there was no damage to the nuclear power plant in Onagawa. Tokai Daini nuclear plant in Ibaraki prefecture is also not damaged.
Earthquakes are common in Japan, as one of the region with the world's most active seismic activity. Japan accounts for about 20 percent of the world's earthquakes. On March 11, 2011, an earthquake of magnitude 9, rocked Japan, as the strongest earthquake ever recorded. The tsunami triggered by the earthquake, causing the world's worst nuclear crisis.